I've just come back from a trip in York, and this week I have *all* my deadlines due. So instead of posting what I've read of the Kalevala (not much), I'll give you my reading lists from my courses:
1. CREATIVE WRITING WORKSHOP
with
Trezza Azzopardi
Basically, we've gotta read and critique what everyone else writes.
2. NOVEL HISTORY
(actually historical fiction) with
Rebecca Stott
Oh man. Some of these are 700 pages long. Good course though.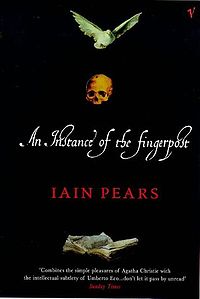 Walter Scott's
Waverley
Hilary Mantel's
Wolf Hall
Graham Swift's
Waterland
W.G. Sebald,
Rings of Saturn.
Rose Tremain,
Music and Silence
Iain Pears'
An Instance of the Fingerpost
Toni Morrison,
Beloved
Laurent Binet,
HHhH
3. LUDIC LITERATURE
with
Thomas Karshan
I'm auditing this one, but I've missed - and will miss - a lot of classes and readings. Square brackets around the books I haven't read and probably won't read very soon.
Lewis Carroll's
Alice's Adventures in Wonderland and Through the Looking Glass
Raymond Queneau's
Exercises in Style
Nikolai Gogol's
Diary of a Madman
Fyodor Dostoevsky's
Notes from the Underground and The Double
Vladimir Nabokov's
Despair
Franz Kafka's
The Great Wall of China, and other short works
Jorge Luis Borges's
Labyrinths
[John Ashbery's
Collected Poems 1956-1987
]
Vladimir Nabokov's
Pale Fire
[Georges Perec's
Life, a User's Manual
]
Italo Calvino's
Invisible Cities
[Raymond Queneau's
100,000 billion poems
Italo Calvino's
If on a Winter's Night a Traveller
Roland Barthes's
S/Z
Paul Muldoon's
Poems 1968-1998
Angela Carter's
The Bloody Chamber
Robert Coover's
Pricksongs and Descants
Donald Barthelme's
60 Stories
]
4. CONTEMPORARY WORLD THEATRE
with
Holly Maples
I'm also auditing this! And I had to miss a whole bunch of courses because James Lasdun came in to do Tuesday morning workshops, but it's a teeny-tiny class with just two or three of us taking it and we get really good discussions going. Also everything's online so we don't have to buy extra books, which is awesome.
Lots of essays and screenings for this, but I'll just list the entire plays we read/had to read:
Mark Anthony Rolo's
What's an Indian Woman to Do
David Henry Hwang's
M. Butterfly
[Wole Soyinka's
Death and the King's Horseman
Athol Fugard's
Sizwe Banzi is Dead
]
Ariel Dorfman's
Death and the Maiden
Derek Walcott's
Dream on Monkey Mountain
Vaclav Havel's
Redevelopment