I've set aside my international palate for a while to concentrate on domestic affairs. I'm involved in
the Lit Up Indie Arts Festival this weekend -
click here
for the website.
Basically, from Sat 20 Jul 7pm to Sun 21 Jul 7pm at the Aliwal Arts Centre Courtyard, I'll be doing a 24-hour reading of Singapore literature together with performance artist Lee Wen. We did a mike test yesterday (Friday):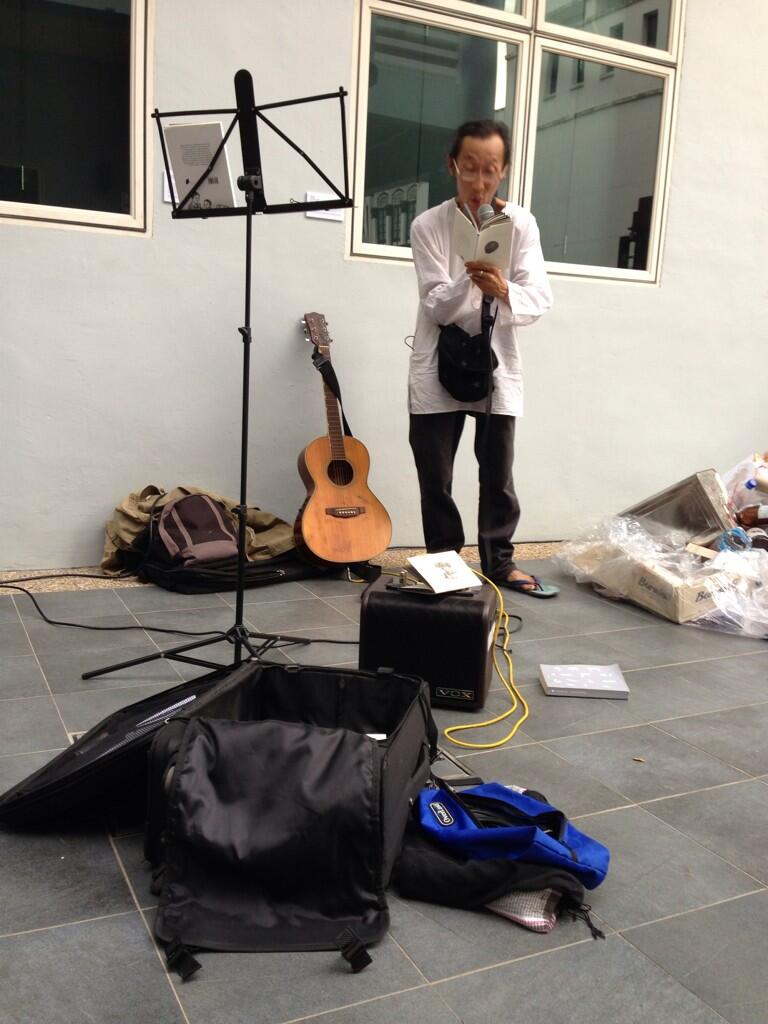 We'll be taking loo breaks and sleeping in shifts and hydrating regularly. Don't worry, we'll pull through! But feel free to join us for a read if you like!
Lee Wen's also creating an installation made up of the 397 Singaporean books I'm bringing over from my personal collection, packed into five suitcases and a rucksack:
Below is a list of books we've decided to read from - there's stuff in English, Malay and Mandarin, as well as translations of all this stuff into English. We won't get through them all, of course, but we revel in the diversity represented!
Excerpts from the Sejarah Melayu
Shaus Frazer's The Crocodile Dies Twice
Stella Kon's Emily of Emerald Hill
Suratman Markasan's Penghulu
Isa Kamari's Sumur Asia
Singai Ma Elangkannan's Flowers at Dawn
Kuo Pao Kun's Two Plays: Descendants of the Eunuch Admiral & The Spirits Play
Haresh Sharma's Off Centre
Quah Sy Ren's Invisibility
Russell Lee's True Singapore Ghost Stories 2
Gopal Baratham's Memories that Glow in the Dark
Elangovan's Talaq
Susie Lingham's Serpent Says from FOCAS 2
Lau Siew Mei's Playing Madame Mao
Robin Loon's Destinies of Flowers in the Mirror
Alfian Sa'at's Collected Plays I and Malay Sketches
Grace Chia's Womango
Alfian Sa'at, Alin Mosbit and Noor Effendy Ibrahim's Bisik
Lee Wen's The Republic of Daydreams
Ng How Wee's 𣲙封赤道
Pooja Nansi's Stiletto Scars
Ethos Books's Our Thoughts Are Free
Cyril Wong's Satori Blues
O Thiam Chin's Never Been Better
Muhammad Jailani Abu Talib's Susur Pendekar
Reflecting On the Merlion
Chris Mooney-Singh's The Bearded Chameleon
Masturah Alatas's The Girl Who Made It Snow in Singapore
Gene Sha Rudyn's Al-Ikhlas
Tan Tarn How's Fear of Writing
Ho Rui An's Several Islands
Dave Chua's The Beating and Other Stories
Jee Leong Koh's The Pillow Book
Boey Kim Cheng's Clear Brightness
Christine Chia's The Law of Second Marriages
Aziza Ali's Sambal Days, Kampong Cuisine
Jerrold Yam's Scattered Vertebrae
Tan Lixin's Keeping Skeletons
24 Flavours: Sushi
Hope to see you there! If there's anything you'd really like to hear read, thrust it in our hands and we might indulge you!